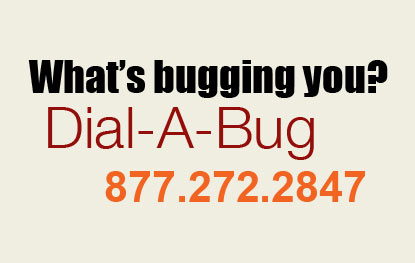 We're A Second Generation Family Owned & Operated Pest Control Company
Dial-A-Bug is a second generation family owned and operated Pest Control company serving all Metropolitan New York, Long Island and Northern New Jersey areas since 1969. Our staff of over 75 courteous, professionally trained and licensed technicians are ready and able to service all of your needs. Many of our employees have been with us in excess of 20 years because we not only care about our customers but we care equally about our staff and their families.
We've been able to thrive in the pest control business for over 4 decades because we follow through on our promise, and we stand behind all of our work. We customize our pest control solutions to fit your needs.
Learn More About The Products We Use
Interested in learning more about the pest control products used during your service? Dial-A-Bug has Material Safety Data Sheets (MSDS) on all the products we use to keep you, your business and your home free of pests.
Good News... Dial-A-Bug Has Gone Green!
At Dial-A-Bug we have raised the bar for quality in all aspects of our business. We are on the cutting-edge and have incorporated Integrated Pest Management ( IPM) in every service we provide. The purpose of IPM is to provide effective pest management while minimizing the use of pesticides in and around your living and working environment. Dial-A-Bug values the environment and our customers' well-being. We take the highest level of safety precautions to protect both.
At Dial-A-Bug we go above and beyond the requirements of traditional IPM to set ourselves apart from our competition. Our company has been awarded the QualityPro Mark of Excellence for meeting superior industry standards from the National Pest Management Association. In order to be recognized as a QualityPro company
we must fulfill and maintain a higher set of standards in four key areas of business; business operations, consumer relations, environmental stewardship and technician training. What this means is that our business practices are of the highest quality you can achieve! Additionally, Dial-A-Bug is designated as a GreenPro certified company which is an extension of the QualityPro Mark of Excellence. GreenPro is a widely renowned green certification program for pest management professionals only and works hand-in hand with IPM.
When hiring a GreenPro company, such as Dial-A-Bug for your pest management needs, rest assured that the pest management professional sent to service you, meets tough standards to ensure that you receive an environmentally responsible service.
Green Pro Certified
100% committed to pest management that reduces risk to people, property, and the environment.
Quality Pro Certified
We're proud to be QualityPro certified. QualityPro is the mark of excellence in Pest Management
Give us a call 877-272-2847
Find out why for over 40 years thousands of loyal customers continue to: DIAL A BUG!